QUESTION 1
HP Active Health System is a component of which HP product or technology?
A.    HP Insight Control
B.    HP Insight Remote Support
C.    HP iLO Management Engine
D.    HP Matrix OE
Answer: C
QUESTION 2
Which enhanced support feature for physical networks with multiple VLANs is introduced in CloudSystem Matrix 7.0?
A.    Support for 10Gb/s VLAN tagging over the physical segments
B.    Support for IPv6 addressing on all physical and virtual networks
C.    End-to-end monitoring of networks traffic across multiple physical and virtual networks
D.    Ability to detail trunk networks and create templates representing a trunk network connected to a VC
server blade
Answer: D
Explanation:
http://bizsupport2.austin.hp.com/bc/docs/support/SupportManual/c03252265/c03252265.pdf (page 5, second last bulleted point)
QUESTION 3
Where do you control the enhanced bare-metal deployment of ESX/ESXi ProLiant Gen8 server from VMware vCenter?
A.    Insight Control Wizard
B.    HP iLO Management Engine
C.    HP Server Automation
D.    vCenter Provisioning Manager
Answer: A
Explanation:
http://h20000.www2.hp.com/bizsupport/TechSupport/Document.jsp?lang=en&cc=us&taskId=120& prodSeriesId=3962076&prodTypeId=18964&objectID=c02003085 (See description column; insight control for VMware vCenter server 7.0 enhancements, second bulleted point)
QUESTION 4
Your current HP CloudSystem environment consists of one c7000 enclosure with two virtual connect Flex-10 modules. Two new enclosures contain both the Virtual Connect Flex-10 and virtual Connect Fabre Channel modules. You want the Virtual Connect Ethernet domain configuration to be identical across all these enclosures.
What is the connect method to quickly replicate one enclosure configuration to the other two enclosures?
A.    Import the two new enclosures with un-configured domain into the same Virtual Connect Enterprise
Manager domain group as the original enclosure
B.    Create a VC domain backup file on the current enclosure and configure the new enclosure VC
domains from the backup file
C.    Capture the output of the show brief-connection on the original VC domain and use the values
from the output to create a configuration script to build the more domain
D.    Capture a configuration script using the show config on the original VC domain, make appropriate
edits to the script, and execute it to create and configure the domains.
Answer: D
QUESTION 5
Drag and drop the boxes.
The CIOs objective is to virtualize all standalone servers and move them into the CloudSystem environment. There is no budget to purchase new systems. Build a plan to accomplish this objective by selecting the appropriate four actions and placing them in the correct order.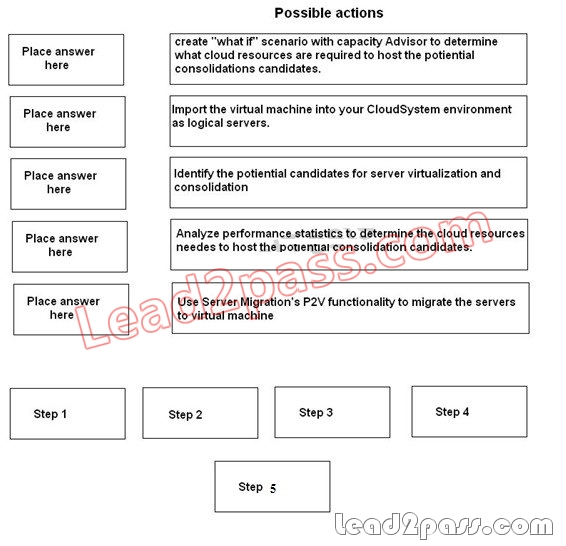 Answer: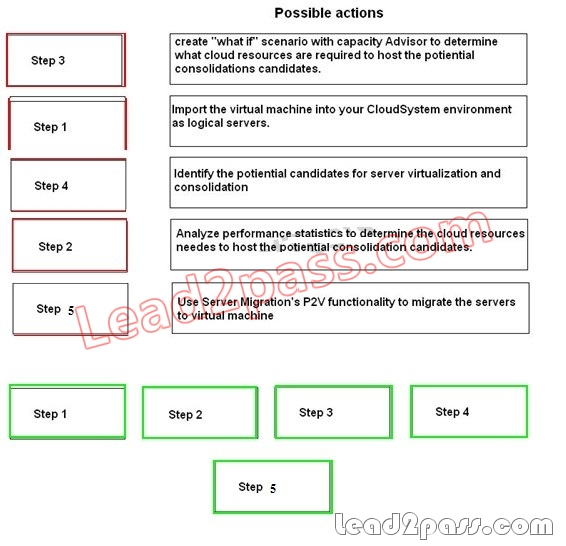 QUESTION 6
You create a new VMware template with two CPUs, 8 GB of memory, and two LUNs. The operating system type is Linux. From the IO software tab you cannot see template. What is the reason for this?
A.    Two CPUs are not supported with VM management templates
B.    The template is a Linux OS
C.    The template has more than one LUN
D.    You have not published the template
Answer: D
QUESTION 7
What is the primary purpose of the HP Matrix OE capacity planning functionality in the HP CloudSystem Matrix?
A.    Provides accurate cooling data
B.    Generates hardware component performance reports
C.    Monitor pre-failure alerts
D.    Enables quick and safe testing proposed configuration changes
Answer: B
QUESTION 8
A customer has a c7000 enclosures with 16 ProLiant BL460c G7 server blades. Two of the server blades are VMware ESXi 6 hosts and remaining six are Microsoft Windows Server 2008 R2 servers. The Windows servers need to be virtualized to allow all 16 servers to become 5 hosts. Which licensing is required to perform Physical to Virtual (P2V) migrations?
A.    HP iLO Advanced for BladeSystem
B.    HP Insight Dynamics for ProLiant
C.    HP Insight Control BladeSystem
D.    HP RDP for ProLiant server
Answer: C
QUESTION 9
Refer to the exhibits. Your HP Cloud system Matrix configuration consists of ProLiant G7 and Gen8 server blades. From an old project, you have some ProLiant G6 server blades with QLogic QMH2562 8GB HBAs that you would like add to the configuration.
Using the HP CloudSystem Matrix 7.0 Compatibility Chart pages in the exhibit, which statement is correct?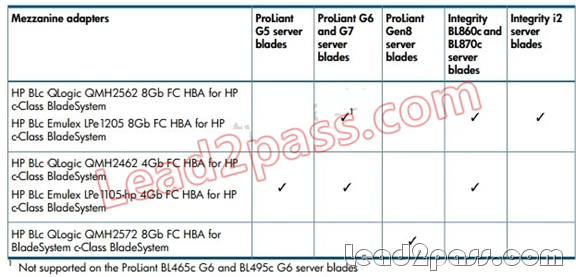 A.    Generation 6 server blades are not specified in this configuration
B.    The QLogic 8GB HBAs must be installed in mezzanine slot 1
C.    The Flex Fabric Modules must be installed in interconnect bays 3 and 4
D.    Combining all three generations is supported
Answer: A
Explanation:
http://bizsupport2.austin.hp.com/bc/docs/support/SupportManual/c03559164/c03559164.pdf (page 8, see the first chart)
QUESTION 10
Due to an error, it is necessary to recover a Matrix CMS from the prior day's backup. "Mxsync" id used to place the restored backup in a consistent state. A physical logical server created prior to the crash is not present in Matrix OE visualization logical server view.
Which action recovers the missing logical server?
A.    Copy actions form the secondary CMS
B.    Restore actions from the hourly Matrix OE automatic snapshots
C.    Replay actions from the logical server log files
D.    Import the blade with its existing Virtual Connect profile as logical server
Answer: D
If you want to pass HP HP0-D15 successfully, donot missing to read latest lead2pass HP HP0-D15 practice exams.
If you can master all lead2pass questions you will able to pass 100% guaranteed.
http://www.lead2pass.com/HP0-D15.html
Why Choose Lead2pass?
If you want to pass the exam successfully in first attempt you have to choose the best IT study material provider, in my opinion, Lead2pass is one of the best way to prepare for the exam.
| | | | | | |
| --- | --- | --- | --- | --- | --- |
| | | | | | |
| | Lead2pass | Testking | Pass4sure | Actualtests | Others |
| | $99.99 | $124.99 | $125.99 | $189 | $29.99-$49.99 |
| Up-to-Dated | ✔ | ✖ | ✖ | ✖ | ✖ |
| Real Questions | ✔ | ✖ | ✖ | ✖ | ✖ |
| Error Correction | ✔ | ✖ | ✖ | ✖ | ✖ |
| Printable PDF | ✔ | ✖ | ✖ | ✖ | ✖ |
| Premium VCE | ✔ | ✖ | ✖ | ✖ | ✖ |
| VCE Simulator | ✔ | ✖ | ✖ | ✖ | ✖ |
| One Time Purchase | ✔ | ✖ | ✖ | ✖ | ✖ |
| Instant Download | ✔ | ✖ | ✖ | ✖ | ✖ |
| Unlimited Install | ✔ | ✖ | ✖ | ✖ | ✖ |
| 100% Pass Guarantee | ✔ | ✖ | ✖ | ✖ | ✖ |
| 100% Money Back | ✔ | ✖ | ✖ | ✖ | ✖ |